Untold story of Joseph Laroche, the only black man on RMS Titanic 1912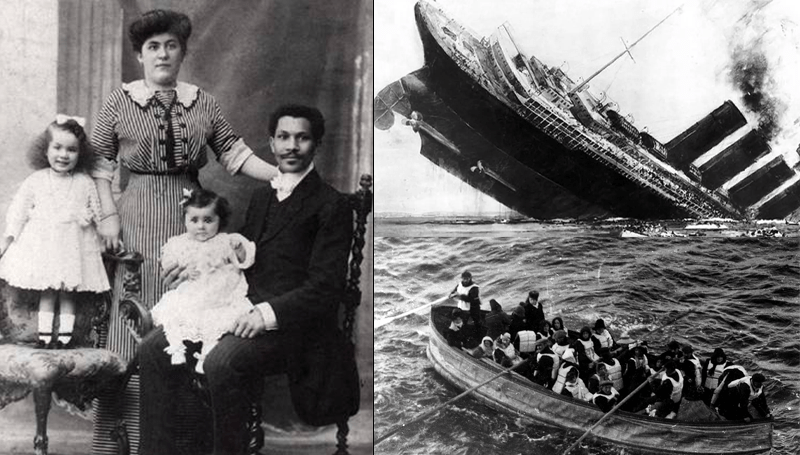 Many portrayals of the events surrounding the RMS Titanic show only white passengers, leading many to believe there were no persons of color on board. In recent years, the story of the Titanic's single black passenger and his family has been brought to light as an ignored Titanic fact.
Joseph Philippe Lemercier Laroche was born in 1886 in Haiti. At the age of 15, he went to France to study engineering.  He moved to France to study engineering when he was 15 years old. He was fluent in French, Creole, and English. He married Juliette Lafargue, a white French woman with whom they were great friends when they first met through a mentor, after earning a degree in engineering.
Despite his qualifications, he had trouble finding work due to widespread racial discrimination. When he did find work, he was paid poorly by racist employers. He decided to explore for new prospects outside of France in order to support his two small girls and expectant wife. The couple chose to relocate to Haiti, where Laroche's uncle, Cincinnatus Leconte, was President of the country and promised to appoint his nephew to a mathematics professorship.
Tickets were purchased to travel to Haiti on the ship La France. Due to the ship's policy of segregating parents and children, the couple chose to exchange their first-class tickets for second-class seats on the RMS Titanic so that they might be with their daughters, one of whom was frequently unwell. They planned to take another ship to Haiti from New York, the Titanic's final destination.
On the fateful night/early morning of April 15, 1912, however, disaster struck which claimed 1,490–1,635 lives. Juliette and Simonne, one of her daughters, were able to board a lifeboat. Louise, Laroche's second daughter, was placed on the same lifeboat as her mother and sister, according to his last known actions. He assured his wife that they would see each other soon after confirming his family was in a lifeboat. His body was never found; he was 25 years old at the time of his death.
After the RMS Carpathia picked up Titanic survivors and transferred them to New York, Juliette Lafargue, a new widow, pregnant, and with her two small girls at her side, was left alone. She couldn't communicate in English and was cash-strapped after her spouse drowned. She ultimately embarked on her journey back to France on a ship after a rough three weeks in the city.
Juliette gave birth to a son, whom she called Joseph after his father, a few months later. She never recovered from the shock of her husband's death and the ship's sinking. She despised telling her children about her survival and told them not to talk about it or about their father. She was in charge of her daughters' lives, never letting them out of her sight until she passed.
The tragic tragedy of Joseph Laroche adds to the Titanic story by highlighting injustices in the Black experience. Because of racial discrimination in France, Laroche boarded the ship in search of fresh prospects. These social forces conspired against him, forcing him to hunt for work overseas and displacing him from the country where he had established a family. The presence of a black guy and his family on board was never acknowledged by many survivors.
For decades, his narrative went unnoticed, and it was only through dedicated historical investigation that it became more widely recognized. It is critical to understand Joseph Laroche's tale and presence on the renowned ship because it challenges assumptions about the passengers and enriches previously unexplored discussions regarding race aboard the RMS Titanic. His tale must no longer be neglected.