Africa enjoys unlimited telecommunication services because of Gaddafi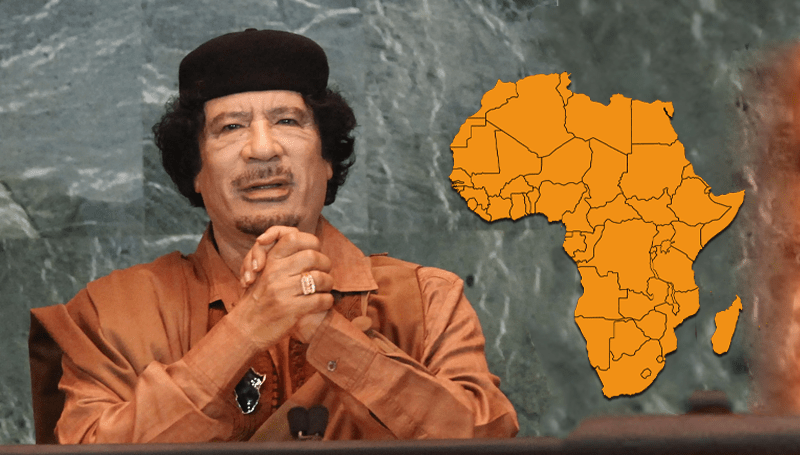 Muammar Gaddafi played a leading role in ensuring that Africa was connected. Africa declined to paying Europe $500 million a year in satellite usage fees. It was Muammar Gaddafi who led the efforts to connect the whole of the African continent together.
Making a phone call in Africa used to be unbelievably expensive. Making a call to a caller who is outside of Africa is even worse. The portal is now open to contact anyone, wherever in the world, as quickly as possible thanks to a significant shift. Just one button click. Online streaming is available for an eternity.
The history of how this came to be in Africa is not well known. There is little information available on how the actions of one man—the late Colonel Muammar Gaddafi—led to a significant improvement in Africa's access to telecommunications. For its own communications, the entire continent previously relied on European and American infrastructure. And part of that involved paying a steep premium to them so that every communication coming from Africa could flow through their infrastructure.
The idea of connecting the entire continent to the internet, radio, television, and telephone appeared improbable for Africa. To put an end to this, the continent merely needed to work together. Calls made within and outside of Africa were by far the most expensive in the world before to Gaddafi's modest but revolutionary move that transformed the connectivity of the continent. Making a call that could last longer than five minutes was a luxury.
For its own communication, Africa was relying on American and European satellites. This required paying them a breathtaking $500 million every year. The only financially responsible course of action was to build one's own satellite and stop depending entirely on European satellites like Intelsat for phone calls. It would spell an end to the $500 yearly payment.
When 45 African nations assembled to discuss a course of action with relation to this issue in 1992, the notion was eventually born. The Regional African Satellite Communication Organization was founded by them (RASCOM). How to raise the money required to finance such a massive undertaking was the main challenge that had to be overcome. With a $400 million upfront investment, a satellite was intended to be built. No more annual payments of $500 million to Europe.
The West was very hesitant to contribute to the project's financing because they would lose out on it. Their control over a continent's communications infrastructure was eroding.
Muammar Gaddafi stepped in since no Western financial institutions were willing to provide any kind of aid. He contributed to transforming Africa's communications infrastructure in this way. He offered $300,000,000. This made it possible for the Western Development Bank to invest an extra US$27 million and for the African Development Bank to contribute US$50 million. Africa received its first communications satellite on December 26, 2007. It only took Gaddafi's initiative to get things started by making the symbolic gesture of contributing $300 million for things to happen. And in doing so, Africa received its first communications satellite and the annual payment to Europe was reduced.
The RASCOM satellites are a testament to leaders' determination to unite the entire continent and stop depending on former colonizers. Due to these factors, the West grew increasingly hostile toward Gaddafi, considering him as an evil and disgusting political person who needed to be eliminated.
And it also for these reasons that the double standards of the West are brought to light.