Yaa Asantewaa, the queen mother of Ejisu in the Ashanti Empire, Ghana [1840 – 1921]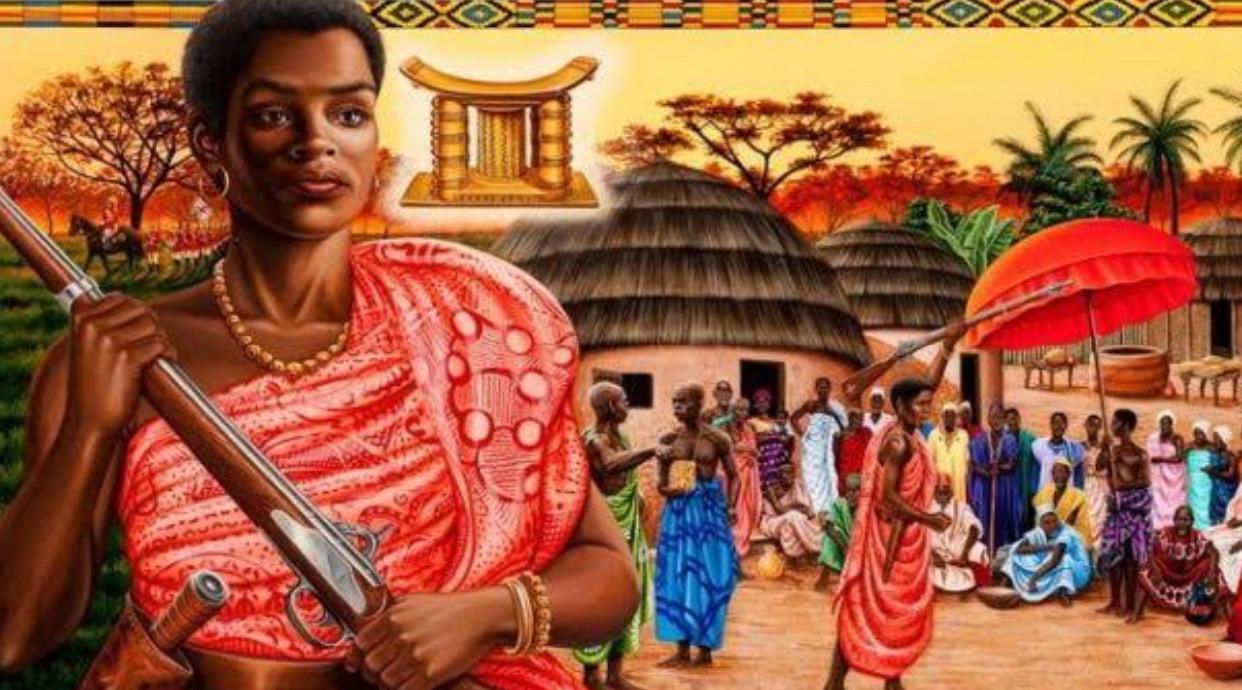 Yaa Asantewaa was born in 1840 and passed on in 1921. She was a good farmer and a successful mother. A policymaker, a human rights activist, the Queen and a leader who was very intelligent.
Yaa Asantewaa is popular and famous for leading the Ashanti rebellion to defend the Golden Stool against British colonial rule. She advocated women's liberation and equality between men and women. She was the sister of Nana Akwasi, Ruler of Ejisu (Ejisuhene), an ethnic group in today's Ghana.
Asantewaa was named Queen Mother by her brother, Nana Akwasi Afrane Okpese. After the Asante Civil War, Akwasi died between 1883 and 1888. After his death, Yaa Asantewaa, who was very significant as a queen mother, used her influence to recommend her grandson as ruler of Ejisu.
In 1896, the British exiled her grandson as well as the King of Asante (Prempeh I) to Seychelles. This was Britain's way of dealing with African kings in the past, as was the case with the Kingdom of Benin with the capture and exile of Oba Ovonramwen (King of Benin) in 1897.
In such times, sending the King into exile was often followed by the plundering of their land. This led to the discovery in Britain of many of Africa's valued arts and crafts. Until now, Africa has also not been willing to reclaim its lost jewels.
The Golden Story was expected to be further enhanced by the British Governor general of Ghana (then called the Gold Coast) Frederick5-007. The Golden Stool was the symbol of the kingdom of Asa. This led to the Elders' Conference.
Yaa Asantewaa was deeply frustrated by the actions of her male counterparts, insisting that if the men did not fight, she would gather the women to fight for the land.
The best known War of the Golden Stool against the British in 1900 was led by Yaa Asantewaa. She was arrested and sent to Seychelles for exile. On October 17, 1921, Yaa Asantewa died in exile.
The last major war led by an African woman was the war of Yaa Asantewa. She has been honored as one of Africa 's greatest women to date. Her body later returned to Ghana where a proper burial was given.
She is honored by a school named after her, 'Yaa Asantewaa Girl's Secondary School.' At the end of 1999, Yaa Asantewaa placed 20th out of a hundred nominees in a global competition organized by the BBC Focus on Africa Program to select the African Millennium Personality.
Wilhelmina J. Donkoh once wrote; "The world has been blessed with numerous women of great courage. These include Queen Idia of Benin, Queen Amina of Zaria, Queen Ndeta Yalla of Senegal, Nongqawuse of the Republic of South Africa, Queen of the Ndongo of Angola, Kimpa Vita of Kongo, Rosa Luxemburg of Polen, Martha Schad of Augsburg, Queen Elisabeth of Great Britain and a host of other brave women leaders. Nana Yaa Asantewaa was the most prominent of the lot, in the African context. Her accomplishments may not have been as great as Queen Amina of Zaria or Queen Elizabeth I in terms of span of leadership, but her courage to stand up to fight the British occupation in West Africa in spite of an initially unmotivated front put up by the Ghanaian men puts her at the top of Africa's greatest female leaders."
Many Africans often name their daughters after Nana Yaa Asantewaa. The former President of Ghana, Flt. Lt. Jerry John Rawlings for example named his second daughter after her. Also Anthony A. Williams, the previous Mayor of Washington D.C in the United States named his daughter in honor of Yaa Asantewaa.
Source: nanayaaasantewaa.de/