School dropout becomes the first producer of 100% electric cars in Nigerian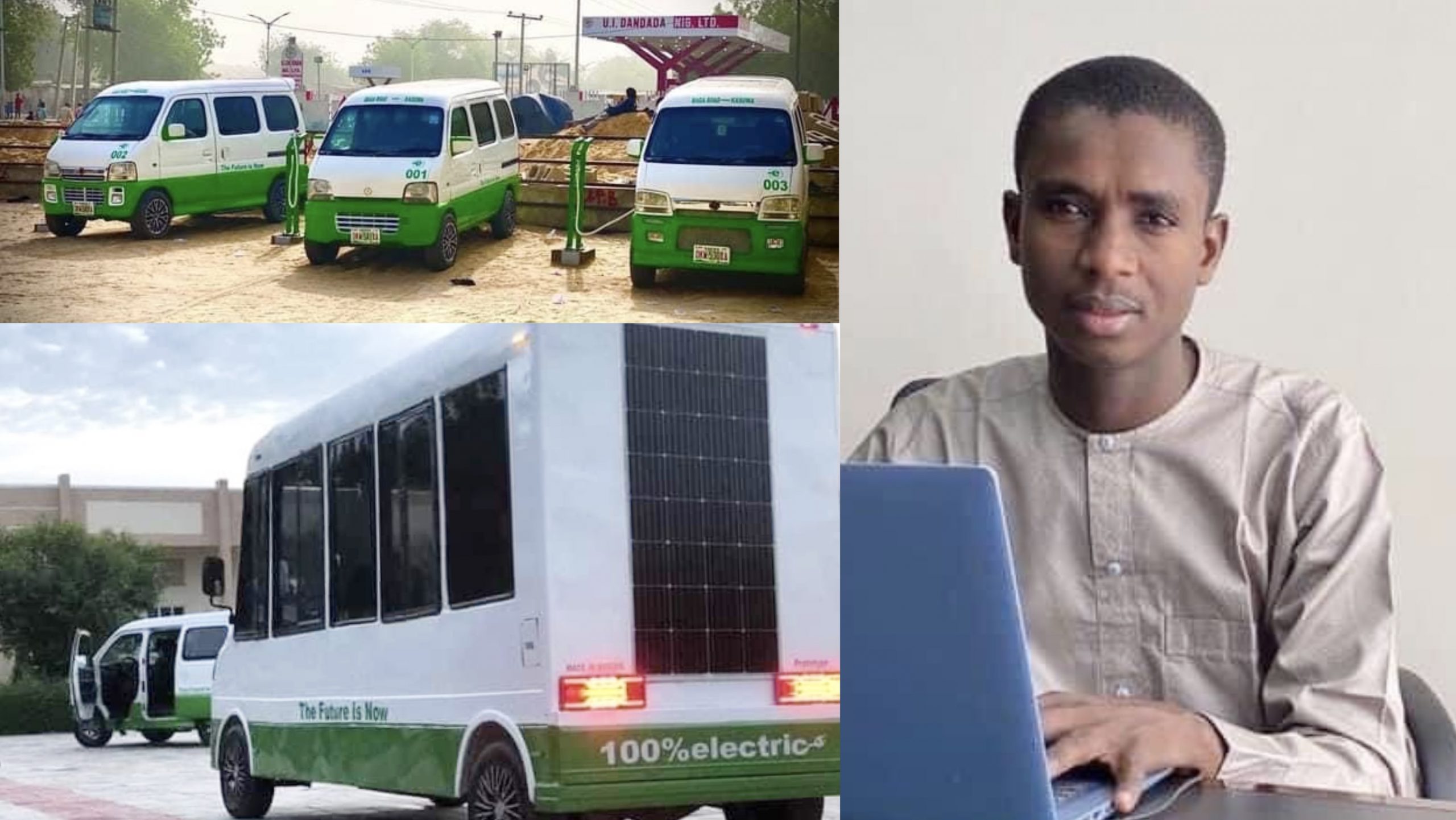 Mustapha Gajibo is a Nigerian University drop-out who builds 100% electric cars and the first producer of electric vehicles in Nigeria.
Education is important in every facet of life, but what you do with it, and the impact you make with it is what matters. Every year, millions of young people around the world drop out of school to either pursue their dreams or career path.
Even though, for Africa, many see it as a taboo or a failure when one drops out of school with the insinuations that you may never be successful by choosing such a dangerous path.
In fact, many Africans are for the notion that "Education is the key to success," but what many failed to realize from this quote is that education is not all about being in a classroom throughout your teenage and adult years, but what you learn every day from the things you do, see, interact with, and cross-path with – that's education.
But many drop-outs are redefining and changing the narratives that drop-outs are pushovers, hit-or-miss, without direction, without a goal, without purpose and slapdash.
Many of the world's drop-outs are actually the ones with the most genius innovations and inventions of our time. They are resilient, hardworking, and determined to make a change through their innovations and inventions – Mustapha Gajibo is one of them.
Mustapha Gajibo, a Nigerian university drop-out born in Borno State, Northeast, has made history by becoming the first Nigerian and the first in Sub-sahara Africa to locally produce electric vehicles from scratch with the goal of promoting clean, efficient energy development in conformity with environmental regulations.
But despite his failure to complete his study at the University of Maiduguri in Borno State, Nigeria's northeast, the 30-year-old young genius has joined a long list of notable persons in history who have created something significant that has influenced society and the globe at large.
Mustapha Gajibo together with his team of young people has designed from scratch electric buses that can go 200 kilometres without needing to recharge their batteries.
The buses are now in operation in Maiduguri, and he hopes to expand their reach in the near future, making them the first home-built electric vehicle in Sub-Saharan Africa.
Why did he Drop-out from university?
Mustapha Gajibo was offered admission to the University of Maiduguri in 2012, however instead of Electrical Engineering, he was awarded admission to pursue General Agricultural Science. He needed to request a course adjustment.
Despite his anxiety, he was given Mechanical Engineering instead of Electrical Engineering and accepted it. But, as luck would have it, he dropped out of his mechanical engineering undergraduate programme at level 3.
What happened after he dropped out?
Of course, his parents would freak out. Some of his family members disapproved of his decision, except his father, who believed he knew what he was doing; some of his friends despised him; and some lecturers, including his department's head, believed he was insane.
According to Mustapha, "It was a very tough decision. In fact, some of my close friends told me that it was madness on my part."
Mustapha then decided to establish his business as a renewable energy enthusiast. In 2014, he took the risk of registering his business with the Corporate Affairs Commission (CAC), a Nigerian agency that grants certificates to qualified individuals and businesses.
What inspired him?
We identified potential problems. At the same time, we came up with electrical minibuses, which can cover 150 kilometres on a single charge. We designed the vehicles to be charged with solar power because this is the future of this country.
On the future of renewable energy and electric vehicles in Nigeria, the imaginative young genius believes that the government's planned elimination of gasoline subsidies will not create severe economic hardship if Nigerians adopt electric vehicles as a mode of transportation.
Gajibo said young Nigerian youths should find a problem in their community that needs a solution just like "I was able to identify problems in the power and transportation sectors and try to solve them."
Gajibo's Innovation
Gajibo has already pulled the combustion engines off ten minibuses at his workshop and replaced them with solar batteries. He told Reuters that the buses, which have been in service for just over a month, can travel 100 kilometres on a single charge. According to Reuters Gajibo's most ambitious project is building the buses from scratch.
They will be equipped with solar panels and batteries. The young creative believes that in the next five years, he would start exporting electric vehicles made in Nigeria to other African countries and the rest of the world.
Mustapha Gajibo, who bragged of over a hundred employees and a large number of part-time workers, noted that making electric buses isn't his only innovation. In Maiduguri and other places, he is also employing solar power to light up some large schools and health facilities. One of his projects is in Owerri, the capital of Imo State, where he installed 80-kilowatt systems to power the Federal University's e-libraries.
What next for Gajibo?
"As I am speaking to you now at our workshop, we are building a 12-seater bus which can cover up to 200 kilometres on one charge," Gajibo told Reuters.
"Before the end of this month we are going to unveil that bus, which will be the first of its kind in the whole of Nigeria," he said, adding that his workshop had the capacity to produce 15 buses a month.