Bai Bureh, the great African warrior King who led the Temne war against the British in 1898
Bai Bureh (February 15, 1840 – August 24, 1908) was the great Sierra Leonean ruler and military strategist who led the Temne uprising against the British in 1898.
His father was a prominent Loko warrior, and his mother was possibly a Temne from the Makeni region.
As a young man, he was taken to Gbendembu, a warrior training school, where he got the nickname "Kebalai," which translates to "one whose basket is never full" or "one who never tires of battle."
In the 1860s and 1870s, Kebalai took the lead as a famous army leader, fighting with a Soso ruler in a long Jihad to maintain proper Islamic traditions. Kebalai was declared ruler of Kasseh, a small kingdom near Port Loko, in 1886 and granted the title Bai Bureh.
The new king quickly developed a reputation for obstinacy, which irritated the British authorities in Freetown. Bai Bureh refused to recognize a peace deal established by the British with the Limba without his participation on one occasion, and he led warriors on a raid across the border into French Guinea on another point.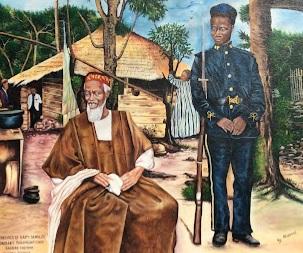 When the British established their Protectorate in 1896, they immediately issued a warrant for Bai Bureh's arrest, fearing that he might stir up opposition to the new "hut tax."
The British were unable to apprehend him, and a long war of aggression ensued, to which Bai Bureh heroically responded by organizing a large-scale guerilla insurrection that lasted ten months.
He commanded warriors from many Temne states, as well as Loko, Soso, and Limba combatants, and for the first four months, he had the upper hand over the far more armed British. The British troops were often surprised by Bai Bureh's forces, who fired indiscriminately from behind hidden war walls before vanishing into the bush.
Bai Bureh had a reputation for supernatural abilities, including the capacity to become bullet-proof and stay underwater for long periods of time.
The British offered a £100 prize for information leading to Bai Bureh's capture, but no one took up the offer; a colonial officer stated that Bai Bureh's troops "loved their chief, and were loyal to him to the very last."
On November 11, 1898, Bai Bureh was apprehended and carried to Freetown under guard, where people came day and night to see the renowned man.
Bai Bureh was exiled to Ghana by the British, but he was brought back in 1905 and reinstated as a Kasseh Chief. Unfortinately in 1908, Sierra Leone lost its greatest hero.